Tap accessories
Designed for use exclusively with the InSinkErator Steaming Hot Water Tap system, the F-701R filter removes or significantly reduces levels of chlorine and other soluble impurities found in tap water which can affect its taste. The filter also reduces scale and remove solid particles. Replacement filters are sold in packs of two.
Features and Benefits:
Cleaner, healthier water
Improves taste and aroma of beverages
Removes impurities and temporary hardness
Quick change cartridge with automatic shut of
Optional extra filtration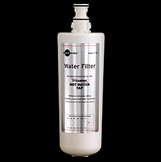 F-701R Filter

F-701R will come standard with all 1100 and 3300 series systems. It is a chlorine, taste and odour filter with additional lead protection and a scale reduction capability. It filters sediment at a 5 micron level and replacement filters are sold in a two pack carton.