How to use a food waste disposer
OPERATING INSTRUCTIONS
Remove disposer plug

Turn on COLD WATER.....a moderate flow ensures best results

Turn disposer on

Feed waste into disposer

Let water continue to run for approx. 10 seconds after grinding is complete to flush plumbing.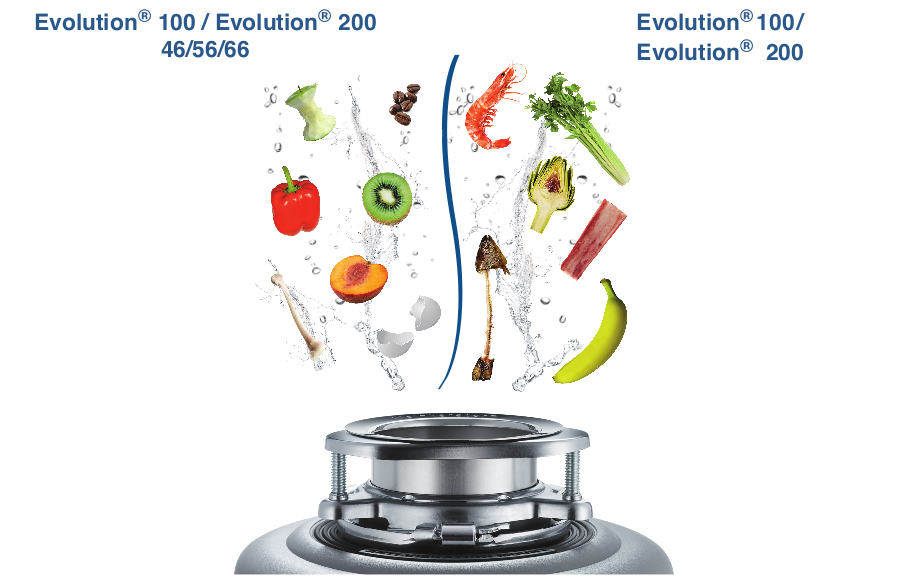 SOME "DO'S" AND "DON'TS" TO KEEP IN MIND
DO grind natural food waste with moderate flow of COLD WATER.

DO grind materials such as vegetable scraps, fruit pits, egg shells, pasta, rice, meat scraps etc.

DO dispose of coffee grounds in your disposer.

DO flush the disposer for self cleaning. Allow the disposer and COLD WATER to run for a few

seconds after grinding or draining the sink.

DON'T put anything but NATURAL FOOD WASTE into the disposer, ie NO GLASS, STRING

OR FEATHERS.

DON'T GRIND OYSTER SHELL as the fine sediment may settle in the plumbing.

DON'T USE HOT WATER when grinding. Using hot water wastes energy.

DON'T PUT FAT, GREASE OR OILS DOWN THE DISPOSER OR ANY DRAIN.

DON'T turn the disposer or the water off until grinding is completed and only the sound of the

motor and running water is heard.

DON'T use SOLVENTS OR CHEMICALS in the disposer.

The Evolution® 100 and Evolution® 200 feature unique two and three stage grinding technology

which enable them to grind STRINGY FIBROUS FOOD such as husks, celery, banana peel and onion skins.