Steaming Hot Water Taps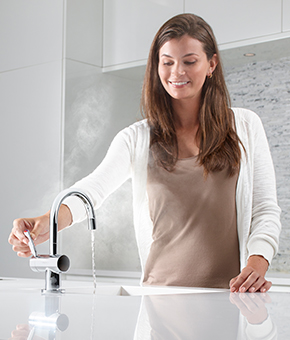 InSinkErator® steaming hot and ambient filtered water taps don't just bring contemporary style to the kitchen sink – they bring ultimate convenience and efficiency to simplify your life in the kitchen.
At the flick of a lever, our Steaming Hot Water Taps are ready to dispense filtered, steaming hot water – the perfect temperature for making hot drinks, speeding up the preparation of pasta or vegetables, cleaning dishes and a host of other kitchen tasks. Our hot/cold models also dispense ambient filtered water for the best tasting and safest drinking water on demand. No kettles, no clutter, no fuss... just steaming hot and ambient filtered water at your fingertips.
Once you have one, you'll wonder how you ever did without it. Explore our Steaming Hot Water Tap product range below or scroll down further to learn more.
How A Steaming Hot Water Tap Works
While the steaming hot water tap sits elegantly on your sink, the hot water tank sits conveniently under it. Water comes up from your supply line to the compact 2/3 gallon, 60-cup capacity stainless steel tank where it is heated. As water is dispensed, fresh water flows into the tank and the cycle continues. It's that simple.
All InSinkErator® taps are fitted with a safety shut-off feature. The 3300 model benefits from a hot water push-lever locking mechanism and the 1100 model has a self-closing hot water valve that cuts off the hot water supply as soon as the lever is released.
Our taps also feature an unobtrusive filtration system under the sink that reduces chlorine, turbidity and other unpleasant tastes and odours.
Why should I have one?
InSinkErator steaming hot water taps are the perfect complement to your main kitchen tap. Here are just a few of the reasons why customers around the world consider them an indispensible accessory in the modern home:
Effortlessly dispenses filtered, steaming hot water at the kitchen sink

Easy to install in your existing kitchen

Instant preparation of coffee, tea and other hot drinks

Speeds up pasta and rice preparation, blanching vegetables, thawing frozen food, warming ice cream scoops, cleaning fruit and vegetables, and countless other tasks

Aids in removing food from dishes and utensils, loosening stubborn jar lids, warming baby bottles and cleaning items without using harsh chemicals

All models feature a safety shut-off mechanism

Uses less energy than a 40 watt light bulb