Household Food Waste Disposers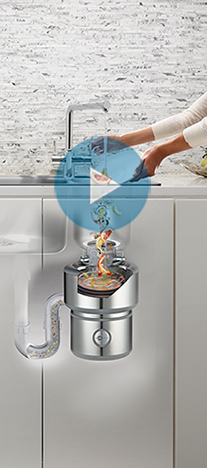 The installation of an InSinkErator® Food waste disposer is the perfect complement to a modern kitchen and the busy Australian lifestyle. With the kitchen becoming the entertaining hub of our homes, a quick and easy way to dispose of food waste represents the ideal kitchen solution. With a food waste disposer, food scraps are conveniently and hygienically deposited down the sink, ground into fine particles and flushed safely into the sewage system, eliminating the need for food waste bins and nasty food smells. Say goodbye to cleaning kitchen bins, not to mention around them. InSinkErator disposers are a true evolution in how we manage kitchen food waste. Explore our disposer product range below or scroll down further to learn more about food waste disposers.
What is a Disposer?
A food waste disposer is a modern kitchen appliance that offers a convenient way to dispose of food waste in your home. It is installed neatly under the kitchen sink and takes finely ground food waste through the plumbing system to the same place toilet waste is treated.
With an InSinkErator Food waste disposer in your kitchen, just about any kind of food waste can go right down the drain thus minimising the handling of food scraps and reducing the time spent preparing and cleaning up after meals. It is easy and safe to use as it grinds food without the use of knives or blades and is now quieter than ever.
At the touch of a button, food waste is dealt with hygienically and instantly - rather than leaving it in a bin to encourage smells, bacteria and insects, particularly during hot Australian summers. Finally you can say goodbye to the odorous kitchen bin. An InSinkErator food waste processor is unobtrusive, compact in design, and can be fitted to most sinks easily and discreetly. All that's needed is standard plumbing and a power source nearby!
How A Disposer Works
Simply turn on your cold tap, then the food waste disposer, put the food scraps into your sink and feed them into the InSinkErator flange that replaces your normal plughole. The food waste is then ground into tiny particles by an internal grind ring, with NO blades involved. The food waste is virtually liquefied, then flushed out of the disposer to safely flow into your sewage system, not your storm water system.
InSinkErator disposers are designed to cope with most types of food waste, including small bones, meat, fish, peelings, eggshells and much, much more.
Cold water should always be running while a disposer is in operation and it should remain on for approximately 15 seconds after the disposer has finished grinding. The average daily water usage is equivalent to one toilet flush.
Why Install A Disposer?
The modern food waste disposer is a true evolution in the way we process organic food scraps and is the perfect complement to the modern Australia kitchen. Our kitchens have become the social hub of the home therefore a way to quickly and hygienically dispose of food waste represents an ideal solution for both entertainers and busy families.
Depositing food scraps down the sink not only minimises the handling of food leftovers, but it eliminates the problem of odorous kitchen bins and the insects they attract--especially during the hot Australian summers.
Key Advantages:
A quicker and more efficient way of dealing with food waste.
Minimises handling of food scraps.
Eliminates the problem of smelly kitchen bins.
Improves the general hygiene of the kitchen and food preparation area.
Eliminates the need to clean on and around bins.
No more plastic bags and the mess they leave as they drip across household floors.
Environmentally responsible as food waste can be converted into renewable energy.
Helping to reduce the amount of waste that goes into landfill.
Reduces council collection costs.
Easy to install into new and existing kitchens.