Environmental Benefits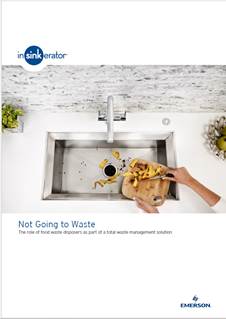 Download our White Paper - Not Going to Waste
Starving Landfills for Over 75 Years
InSinkErator® food waste disposers don't just offer practical, contemporary convenience; they can also provide an environmentally sound answer to the growing problem of food waste.
Food waste disposers have always played an important role in responsible waste management. Disposers divert organic waste from landfills where it would otherwise create methane gas emissions (a potent greenhouse gas) and leachate, which could contaminate ground water.
With a disposer, food waste is finely ground and sent to a wastewater treatment plant, where it can be converted to fertilizer, energy and clean water. Disposers also use small amounts of water and electricity.
The environmental advantages of food waste disposers have been demonstrated and documented by third party studies from around the globe.
Disposer Use: Positive endorsements from around the world
USA
Milwaukee
Chicago
Philadelphia
SWEDEN
Surahammar*
Sundsvall*
Stockholm &Huddinge
ITALY
Capri*
Gaglianico*
Jesi*
Trezzano sul Naviglo
Buccinasco
UK
Worcestershire
Herefordshire
Wandsworth
CHINA
Central Government
Shanghai
Beijing
Chang Le
Cao Feidien
JAPAN
Numata*
Okoppe*
Isesaki*
Kurube*
* Financial incentive is offered for disposer installation