Environmental Benefits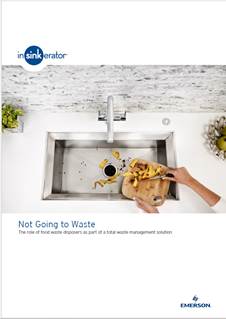 Download our White Paper - Not Going to Waste
THE RIGHT CHOICE FOR THE ENVIRONMENT

Starving landfills for 80 years.
Organic food waste dumped into landfill produces the harmful greenhouse gas, methane,
which is known to be 21 times more toxic than carbon dioxide.
However, methane is a valuable source of energy if it can be captured. Food waste disposers make it possible
to do just that.
After being ground, food waste is sent through the sewerage system to a waste water treatment plant (food
waste is 70% water). These treatment plants are designed to treat organic waste.
This means at appropriate waste water treatment plants, food waste can be recycled and the methane gas
generated can be converted into usable energy to power homes and businesses.

Composting is an important part of waste management, but it is not an option for many people living in highrise
apartments. Designed to complement composting, InSinkErator Food Waste Disposers make it possible to get rid of
bones, animal waste and other organic matter not appropriate for compost beds.
Disposer Use: Positive endorsements from around the world
USA
Milwaukee
Chicago
Philadelphia
SWEDEN
Surahammar*
Sundsvall*
Stockholm &Huddinge
ITALY
Capri*
Gaglianico*
Jesi*
Trezzano sul Naviglo
Buccinasco
UK
Worcestershire
Herefordshire
Wandsworth
CHINA
Central Government
Shanghai
Beijing
Chang Le
Cao Feidien
JAPAN
Numata*
Okoppe*
Isesaki*
Kurube*
* Financial incentive is offered for disposer installation