About us
About InSinkErator
For over 75 years, the company has delivered on the promise of the InSinkErator brand: long lasting innovative products, superior grind and sound performance, trouble-free operation, fast, easy installation, and a We Come To You® In-Home Limited Warranty. Today, this brand promise still stands.
With its global headquarters in Racine, Wisconsin (USA), InSinkErator, a business unit of Emerson Electric Co., is the world's largest manufacturer of food waste disposers and instant hot water dispensers for home and commercial use.
About Emerson
Emerson (NYSE: EMR), based in St. Louis, Missouri (USA), is a global leader in bringing technology and engineering together to provide innovative solutions for customers in industrial, commercial, and consumer markets around the world. The company is comprised of five business segments: Process Management, Industrial Automation, Network Power, Climate Technologies, and Commercial & Residential Solutions. Sales in fiscal 2013 were $24.7 billion. For more information, visit www.emerson.com.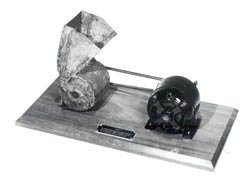 InSinkErator history
In 1927 John W Hammes, a prestigious Racine architects was in his basement trying to make life better in the kitchen. After watching his wife clean up messy food waste after dinner, he had an idea. What if food scraps could be ground into tiny pieces and flushed down the kitchen sink? Before dark, he found himself tinkering with sheet metal, a make-shift grind mechanism, a small motor, and a big idea. He wasn't trying to change how the world worked, he was simply trying to change how his wife worked. But by the end of the night, he was on his way to accomplishing both. The food waste disposer was born. And kitchen clean up would never be the same. Thomas Edison once quipped, "There's a better way to do it. Find it!" That's exactly what Hammes did. He founded a better way to dispose of food waste. Over the next 11 years he perfected it. By 1938, he had not only built a brand, he had built a company. To read more click the link below.
The Practical Idea that Built a Powerful Brand
A History of the InSinkErator Brand